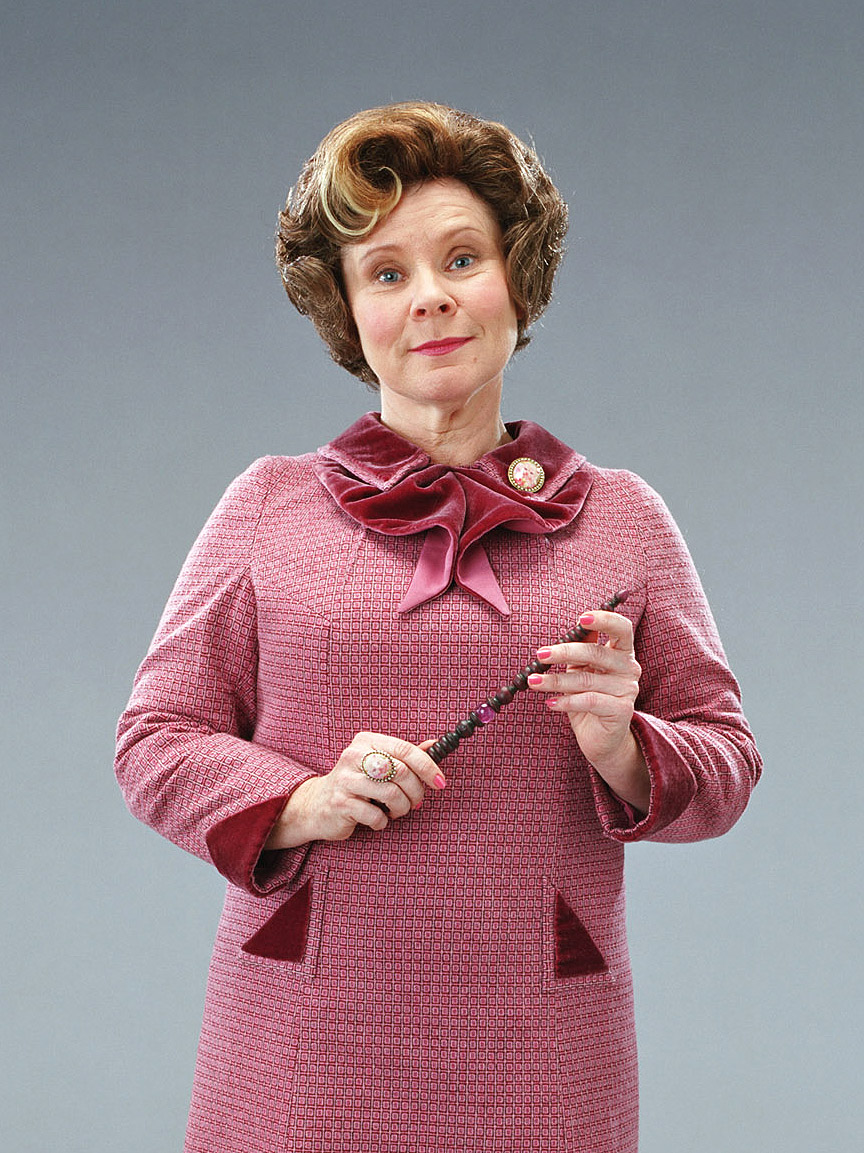 Dolores Jane Umbridge started out as Senior Undersecretary to the Minister, but became the Defense Against the Dark Arts (D.A.D.A) teacher in Harry Potter's fifth year at Hogwarts (Harry Potter and the Order of the Phoenix). After Harry and his friends' first class, however, it became clear that she was simply a spy from the Ministry. Umbridge proved how evil she really was several times in the book. From banning Harry, Fred and George from ever playing Quidditch again to forcing Harry to write in his own blood as detention, this is a list of Umbridge's worst acts.
First of all, Umbridge interrupts Dumbledore at the Welcoming Feast. This might not seem like much, but it was exceedingly rude. It also shows that Umbridge does not like Dumbledore and considers whatever he has to say as unimportant. Next, Umbridge refuses to believe that You-Know-Who has returned. This proves that she disagrees with whatever Dumbledore and Harry say and agrees with Cornelius Fudge. For Harry's detention, Umbridge makes him write I must not tell lies over and over again in his own blood. Harry leaves her office on the last night with a permanent scar on the back of his hand. Umbridge made herself High Inquisitor and put Trelawny and Hagrid on prohibition. She tried to expel several students more than once for no reason at all. Umbridge banned Fred, George, and Harry from ever playing Quidditch. She attempted to capture Sirius, too.
Umbridge's biggest and worst act was threatening to treat Harry to a dose of the Cruciatus Curse. She didn't, luckily, but it was close. Umbridge also seemed to like the Slytherins. Especially Draco Malfoy. He earned her liking through his father.
Umbridge is one of the worst teachers Hogwarts has ever had. She sparked a rebel group called Dumbledore's Army, which teaches the defensive magic that Umbridge is purposely not letting them see (Click the link for a full description). She makes an appearance in Deathly Hallows, but this article is about her time at Hogwarts, so I'm not going to get in to that. Umbridge may have only taught at Hogwarts for one year, but she tortured as many people as she could during it.
Thanks for reading,
Sophia